IMC IMPACT 2018 Fashion Show and Bazaar: 8x8 Rural Artisans x Urban Designers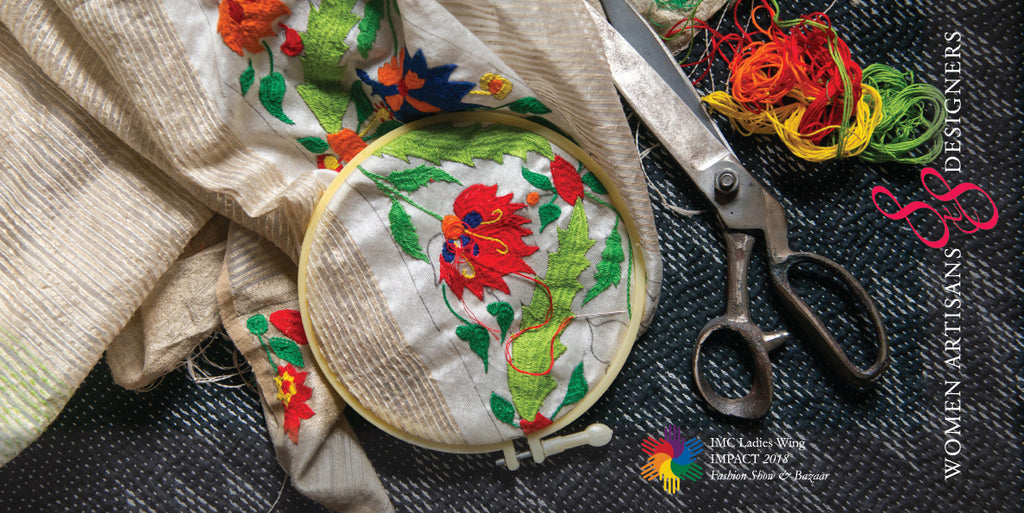 At a time when the need of the hour is to empower women, especially those from rural communities, ARTISANS' is proud to present IMPACT 2018, an initiative of the IMC Ladies' Wing to celebrate International Women's Day and recognize the social, economic and political accomplishments of women in various spheres.
About The Bazaar
The Bazaar presents work co-created by women artisans and designers, highlighting traditional craft practices and, where the design solutions are rooted in India's current context, culture and identity. The idea behind this bazaar is not just to showcase the skills of rural women artisans, but also to raise consumer consciousness in Mumbai and support sustainable fashion and development.
Representing the work of clusters based in different parts of the country like Madhya Pradesh, Bengal, Nagaland and Gujarat, these products exemplify the skills of the artisans, as well as the virtues of the old systems of textile manufacturing, which make use of local materials, offering creative livelihoods and employment to those who possess certain skill sets and who are brought up with the history of a particular tradition of craft. It also invites you, as a consumer, to consider the humanity of the handmade.
Craft in India is uniquely aligned to the UN's 2030 Sustainable Development Goals, which are oriented towards achieving gender equality and providing decent work for all. As the industrialized world seeks to find solutions to sustainability for both society and the environment, India can offer solutions from the perspective of a culture that has to this day managed to maintain many practices considered sustainable, or of necessity, within a frugal economy.
The IMC IMPACT 2018 Bazaar presents eight such Women Artisan x Designer pairings conceived of and curated by Radhi Parekh, the Founder and Director of ARTISANS'. It aims to recognize the unknown women artisans behind the fashion industry, and to honor their labours of love.
Whereas the creation of textiles is a process of which artisans are very familiar, transforming them into garments was an entirely new process for them. At this juncture in the creative process, the designers were instrumental in sharing their knowledge and expertise with their artisan partners. This collaboration gave both factions of makers an opportunity to communicate visually with another and understand different aesthetic sensibilities which culminated in new and exciting ideas.
Gujurat: Geetaben Meria x Madame Hall
Women of the Ahir tribe of Gujarat traditionally embroidered for their own dowries.  Today, these artisans are transforming their labours of love into coveted collections for urban markets, which both generates livelihoods and keeps their traditions alive.
For this collection, theatrical costumier Lisa, aka Madame Hall, teams up with Geetaben Meria, an embroiderer-entrepreneur, to design an assemblage of one-of-a-kind wearable art that celebrates their combined 'boho-luxe' aesthetic.
Nagaland: Leshemi Origins x PELLA
Indigenous women of the Chakesang tribe from Leshemi, a remote Naga village in the mountains of North East India, continue to weave nettle shawls, unique to their own identity, on back-strapped looms.
For Impact 2018, Designer Priyanka Ella Lorena Lama, aka Pella, works directly with the nettle weavers to give organic form to their textiles with minimal intervention. Each garment is fashioned from a single block of strip-woven fabric to accentuate the tribal identity of fine black stripes on natural white. Pella represented India at the London Fashion Week 2017, and is recognized for her pioneering sustainable fashion design, which promotes indigenous hand woven fibres and zero-waste patterns.
Madhya Pradesh: REHWA Society x Dhanya Kolathur
REHWA Society, founded by the erstwhile royal Holkar family, empowers weavers from the small town of Maheshwar in Madhya Pradesh. This self-contained unit continues to provide a stable source of income to local weavers, while maintaining the relevance of both, artisans and handmade products in today's market. 
Dhanya Kolathur a young designer has co-created a 'Summer Palace' collection with REHWA. She reimagines the classic Maheshwari sari as royal summer attire incorporating motifs from the legendary home of the Holkars on the banks of the river Narmada.
Madhya Pradesh: WomenWeave x Crow
WomenWeave works towards overcoming the vulnerability of women weavers and aims at making handloom a profitable, fulfilling, dignified income-earning and life-improving activity. 
Shaila Khubchandani of the brand Crow is an emerging voice in sustainable fashion. For Impact 2018 she creates 'Summer Essentials,' a collection that is essentially minimal with an eccentric whimsy that celebrates the fine cotton woven by women artisans.
Rajasthan: The Stitching Project
Fiona Wright and Praveen Nayak are cofounders of the social enterprise, The Stitching Project, based in rural Rajasthan. Fiona runs a stitching workshop with local women, where the emphasis is on 'make-do' practices, based on India's rich legacy of recycled quilting.
The 'Planted Collection' is completely handmade. Hand-spun hand woven cotton is transformed in-house, coloured with natural dyes, hand stitched and assembled. Nothing is thrown away in the process and the 'waste not, want not' accessories are made from off-cuts of these garments.  
New Delhi: Sujani x Indigene
The design duo Ruchi Tripathi and Jaya Bhatt of Indigene, are inspired by indigenous textiles, as the name implies. They work with migrant workers from Bihar whose sujani stitch, a technique of patching, mending and quilting, is in keeping with Indigene's "no waste" philosophy.
Leftover fabrics and off-cuts are recreated into silhouettes that highlight the utility of the garment and prioritize simplicity and comfort.
Bengal: Katna's Kantha x Bailou
Shabnam Ramaswamy is a social activist who founded Katna's Kantha, a Street Survivors Project in Murshidabad, a district of West Bengal, in 2004. It now employs 1,500 women across 50 villages. Their embroidery and quilting is unique to this predominantly Muslim community. The kantha, or quilting stitch, is a distinct counted thread-stitch, where intricate geometric patterns bind layers of recycled saris. 
For Impact 2018 Katna's Kantha collaborates with UNESCO award-winning designers Rumi and Bappaditya Biswas of Bailou, Kolkata.
Gujurat: Bandhani x Sunita Shanker
Women of the Khatri community of Kutch, Gujarat, create the finest bandhani, a technique of tying intricate knots in patterns, before dyeing the fabric. 
For IMPACT 2018, veteran designer Sunita Shanker and her artisans interpret bandhani traditions to evoke a bold new Indian identity rooted in craft. Sunita is widely respected for her contribution to Indian textiles as a Fashion & Textile Consultant to the Textile Ministry of India.
As artisans and designers interact directly with the buyers at the IMC IMPACT 2018 Bazaar, they carry back observations that offer hopes of innovation and enterprise, opening up new pathways and directions.